On the Main WineBar...

| | | |
| --- | --- | --- |
| ...click the Plus | | button to add a new wine or you can use the |
For this there's a very handy Duplicate function for this so have a look a Edit an existing wine otherwise read on...
The Add a new wine to the cellar dialog will appear and at first sight it does appear to be rather large and with lots of things to fill in. Don't panic though because you don't have to do much typing in order to add a wine to your cellar.
Start with the Vintage either by typing in the vintage or using the up/down buttons. For a non vintage wine click the "Non Vintage" button which will place 9999 in the Vintage field.
Use the TAB key as ENTER will save the wine
Next add a Winery and the TAB key does work so Tabbing will get you there. Now if this is the very first wine you're entering you're probably tempted to click on the down arrow expecting to find an extensive list of Wineries. And you'll no doubt be very surprised to find there aren't any.
This isn't a fault, this is the way the program works. There are no pre-loaded lists with type ahead so things are always getting filled in for you as you type. You have to enter the Winery, or the Label or other things. But you only have to enter them once because in future every time WineBase starts it searches your database and populates all the drop down lists with entries from your cellar.
If the Wine is Australian or New Zealand then you've entered enough information in order to search the GoldBook. You do this by clicking on the GoldBook button to the right. There are in fact two of them, the current edition and the previous edition which also includes older information. If the Vintage and Winery match with entries in the GoldBook(s) then a list of matching wines will be listed below the GoldBook buttons. Clicking on any of these will transfer the GoldBook data including the Label, Region, Variety, GoodFrom, BestAt, GoodTo, Value as well as Stars, Rank and %Alc. And that doesn't leave you with much more to add apart from a Quantity (Bottles and/or Cases) and anything else you wish to add.
The Combine and Split buttons in the GoldBook export section next to User 1-4 do just that. Combine puts Stars, Rank and %Alc all in User 2 whilst Split renames User 2,3 and 4 to Stars, Rank and %Alc and puts the relevant data in each.
If the wine isn't in the GoldBook you've got a bit more typing to do. You can add a Label entry if there is one and then you should select a Variety/Wine Style. You'll notice that as you click on a Variety that the GoodFrom, BestAt and GoodTo dates are being filled in for you. These are just a guide, please edit them if needed based on your knowledge, someone elses or what's written on the bottle label. If there isn't a matching Variety then click on the New Variety button to add one.
The Find Region button will look up the inbuilt address database for the winery but if it doesn't find it then the program will search the internet.
You can also search WineSearcher.Com for the wine based on Vintage, Winery, Label and Variety. All of them, or at least the first two.
Above the list of Varieties / Wine Styles in the centre of the dialog box is a New Variety button and if you click on this the Add a New Variety / Wine Style dialog box will appear.
In the space where it says Enter New Variety Here type in your new Variety / Wine Style and adjust the GoodFrom, BestAt and GoodTo dates if needed.
The default values are 2, 4 and 8 and if you adjust them then each number must be different, in accending order and you need all 3 of them. ie 5,10,20, or 3,6,12, is fine but 3,6,6, or 4,8, or 12,6,3, etc. will cause problems.
You are allowed a maximum of 25 characters for the Variety / Wine Style.
The other button in this section is the Edit List button and this is used to change the Maturity Years data for existing varieties in the list or for deleting varieties you no longer want.
Use this option with caution
Because it can lead to a "Error in the Variety.WBD file" message at start up.
See also... Fix a Variety.WBD file error
DO NOT leave blank lines in the file and make sure each line is of the format Variety,Number,Number,Number,. ie. Cabernet,2,4,8,
You should not use this option for adding new varieties as the New Variety option does all the housekeeping for you.
The Add to Shopping List just flags the wine as on the shopping list, as in you want to buy more of it and you can search for these.
Strictly speaking the Label Image Filename isn't really needed as the program will assign an image name based on the wine number. 853 in this case (top right hand corner) and that's what you can use for a label image. These are .BMP format so if you have .JPG or GIF files please convert them to .BMP
There's a fair bit of text here so far explaining how simple this is but trust me, the time taken to read it is way longer than it takes to enter the details for a wine. So moving on, scroll down past the dialog...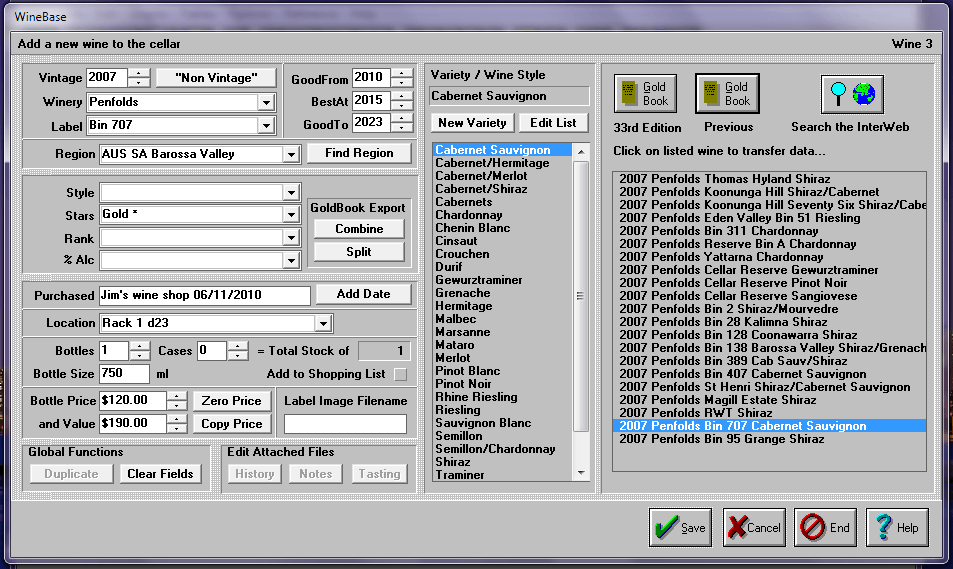 When you're ready to add this wine to your cellar click on the

button.
If you have Attached Files/From Main Edit and/or Transaction Files/On Stock Change selected in the Preferences dialog...
You'll see this dialog...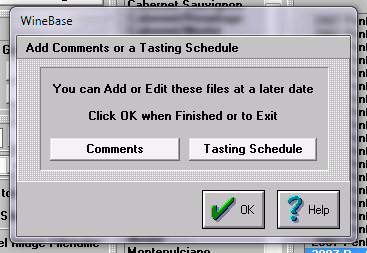 The Comments file is where you enter a Barcode if you wish to use one.
And perhaps this dialog as well where you can add a Reference comment...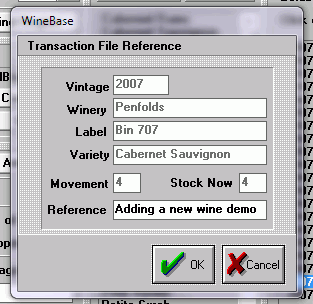 Then you'll get a confirmation dialog...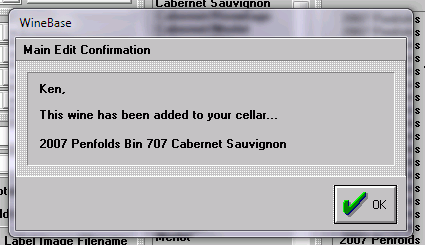 When you close that the Main Edit dialog will still be there and with all the data you entered still there as well. This may seem a tad confusing and you might think that the wine hasn't been saved but it has and the program has told you that. Which it will do again in a more direct way if you click on Save again.
There is a reason for this behaviour and that reason is that it makes entering multiple wines, especially when you first enter your cellar a lot easier and quicker. Very good for vertical vintages, click the Vintage up one year, adjust the Price/Value, Stock and anything else that's different and Save it as a new wine.
To finish adding wines and to close this dialog you can use either the
or the
button.
Now that is a lot of reading and apparently a lot of steps but the task of adding a new wine is in fact a very simple one. It should take about 10 - 15 seconds from go to whoa.