On the Main WineBar...

| | | |
| --- | --- | --- |
| ...click this | | button or you can use the |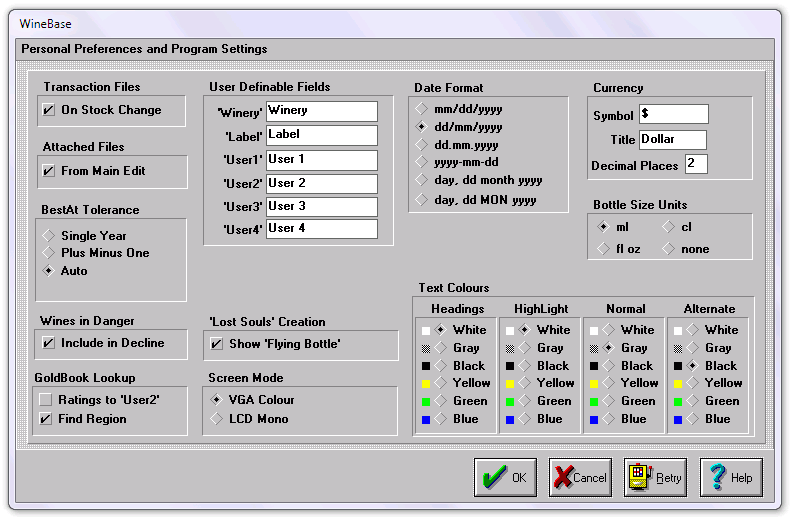 To reset everything back to the default settings press the

button.
When you add a new Wine or change the stock level of an existing one WineBase creates an entry into a Transaction File. You can add a reference comment via a dialog and if you wish to access this Dialog and add a reference comment then place a tick in the 'On Stock Change' checkbox.
When you click the Save button in the Main Edit Dialog you can then also add (edit) the Notes and Tasting Schedule files which together make up the Attached Files for each wine. If you wish to Edit these files then place a tick in the 'From Main Edit' checkbox.
Adds wines near the end of their 'Mature' stage to those listed as in Danger to give you a bit more warning. Unless you have a really good reason for turning this off I suggest you leave it turned on.
The BestAt date is a nominal year that you set as the best drinking year for a wine. You can adjust the tolerance when looking for this in searches.
Single uses just this date, Plus Minus One gives you a year either side as well and Auto adjusts the range depending on the spread from GoodFrom to BestAt.
Auto, the default setting works best.
The range of years covered is indicated by the Glasses, five in this case as indicated in the maturity graphic shown on the Page Display window.
You can also change this setting via the Preferences menu.
| | | |
| --- | --- | --- |
| Figure 1. | | |
Winery, Label, User1, User2, User3 and User4 are all User Definable, ie. you can rename them to suit your needs. Try and keep the names short as they are displayed in Headings, Reports and Dialogs.
Please note that User 2, User 3 and User 4 are also used by the GoldBook Export option in the main Add/Edit a Wine dialog if the Split option has been selected. If you find that your choice of name as selected in this dialog is being replaced by Stars, Rank and % Alc then open the Add/Edit a Wine dialog by clicking on the Plus button (to add a new wine) and select Combine in the GoldBook Export section just to the right of the four user defined fields. Use cancel to close the dialog.
Rating to 'User2' A composite of the GoldBook rating data is placed in the User2 field.
Find Region From the Main Edit Dialog you can direct the program to try and find the Region a wine is produced in using the winery address database built into WineBase. If the program can't find a winery it will with your permission search the internet.
When a wine becomes a 'Lost Soul' a brief animation of a "Flying Bottle' takes place. Just a bit of fun which most people enjoy but turn it off if you find it annoying.
Unless you have a very good reason for changing them I would leave the Text Colours as they are. But feel free to have play and see if a different combination of colours better suits your needs.
If you're using a MONO screen (highly unlikely) you can select LCD MONO which will give a clearer display. This option is also useful for people that have red/green colour issues which is why it's been left in the program.